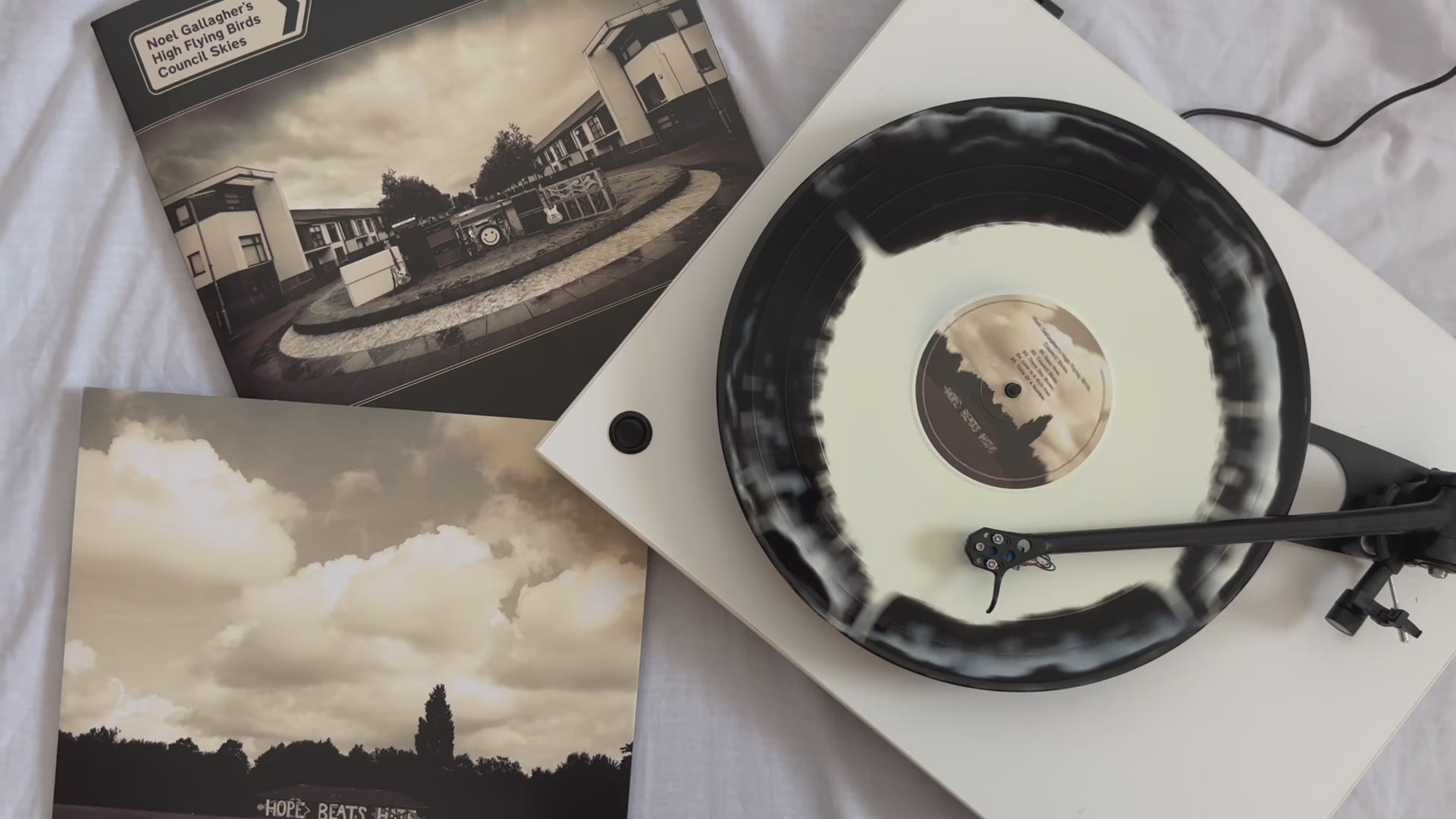 Info
Noel Gallagher's High Flying Birds' forthcoming album 'Council Skies' gets exclusively pressed to black and white 'corona' effect LP via Blood Records, hand-numbered to order and limited to 5,000 copies. 
'Council Skies' sees Noel Gallagher reclaiming his past and paying homage to his Mancunian roots. His most varied and accomplished solo record to date, Noel's fourth solo studio album is a record framed by confidence, risk-taking, surefooted creative freedom, and great emotional depth.  
The record was recorded at Noel's own Lone Star Sound Recording Studios in London, with the album's lusciously orchestrated strings recorded at the legendary Abbey Road Studios and includes recent singles Easy Now and Pretty Boy. Produced by Noel with long-time collaborator Paul 'Strangeboy' Stacey, the album also features performances from Johnny Marr on three tracks, including recent single 'Pretty Boy'. 'Council Skies' takes its title from a book by revered northern illustrator and friend of Noel, artist Pete McKee. It covers themes of youthful yearning, and unbridled ambition.
Speaking of the album, Noel says: "It's going back to the beginning. Daydreaming, looking up at the sky and wondering about what life could be … that's as true to me now as it was in the early '90s. When I was growing up in poverty and unemployment, music took me out of that," he says. "Top of the Pops on TV transformed your Thursday night into this fantasy world, and that's what I think music should be. I want my music to be elevating and transforming in some way."
Last summer Noel Gallagher's High Flying Birds headlined a host of outdoor live shows culminating in a career-spanning performance at Glastonbury's Pyramid stage to one of the weekend's biggest crowds. UK live dates for this summer have recently been announced – details below - with more headline shows to follow before the end of the year. 
Please note that Blood Records is a pre-ordering platform and this record is due for release on 2nd June 2023. All images for illustrative purposes