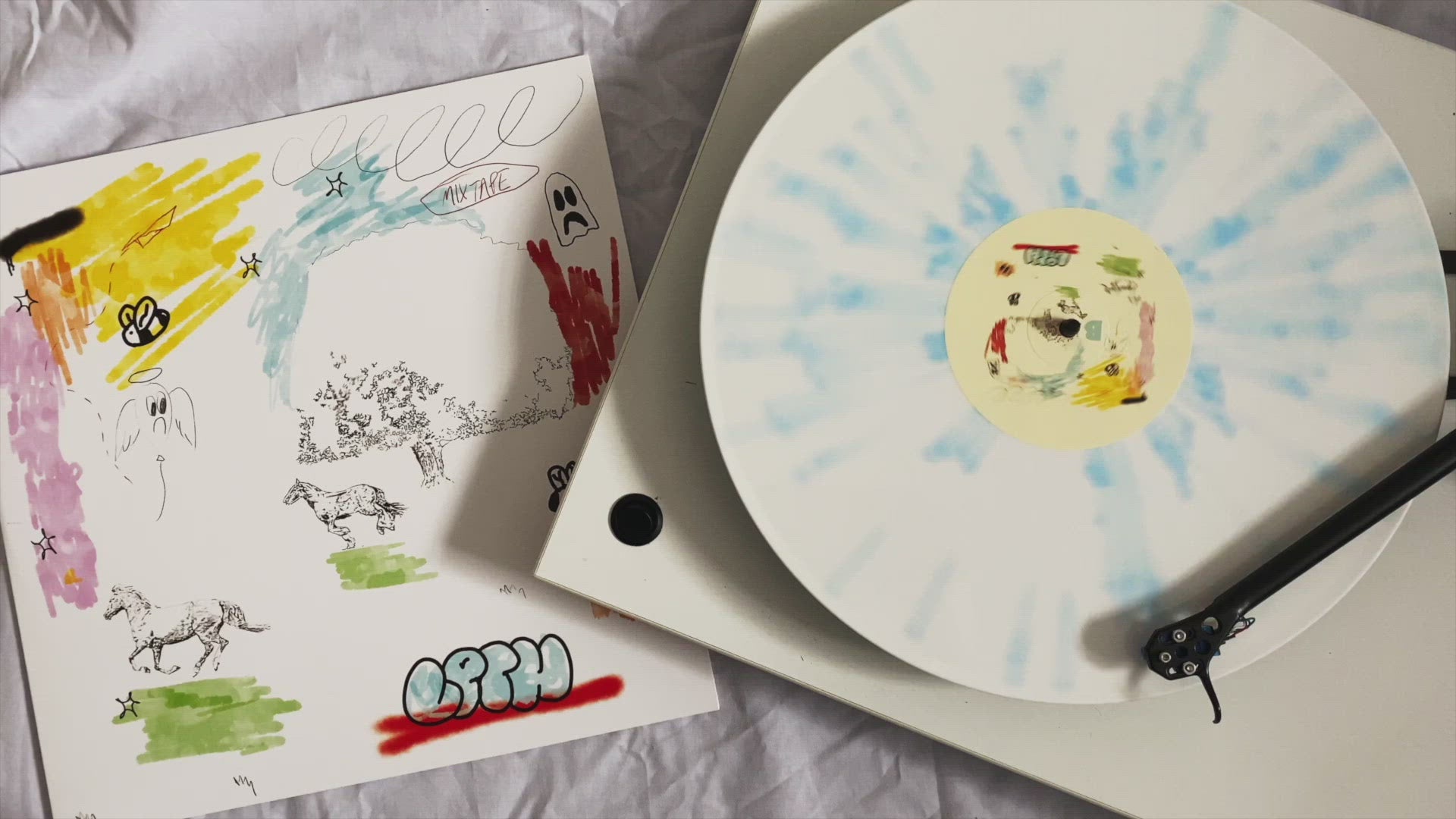 Info
From mercurial duo LARRY PINK THE HUMAN comes the worldwide exclusive vinyl release of last year's debut body of work 'M1XTAPE' pressed to blue splatter-effect LP. The records come signed by the band, hand-numbered on a first-come-first-served basis and 50 copies assigned at random will be doodled-on by the duo.
Having amassed an expansive portfolio of singles over a year that has seen LPTH pick up relentless radio support and perform a coveted secret set at Reading Festival, the duo of Laurie Vincent (Slaves) and Jolyon Thomas (U2, Royal Blood) have produced work that calls upon pop-rock mannerisms of the early noughties, with an undeniably modern sense of self-awareness percolating through its delivery.
As one half of punk duo Slaves, Laurie has picked up a Mercury Prize nomination and collaborated with the likes of Gorillaz, Skepta and Slowthai. Jolyon, who is himself a Mercury prize-nominated songwriter and producer, has contributed production to Kendrick Lamar's Damn LP, as well as working with U2, M83 and Royal Blood (for which he won 2018's MPG Breakthrough Producer of the Year award).
Having experienced profound grief as well as exhilarating happiness within their personal lives in recent memory, this compilation offer a window into the worlds of the two band members.
"Nothing speaks to us deeper than music and these songs represent the beginning of LPTH," Laurie & Jolyon explain. 'The highs the lows, the ordinary and the fantastic all bundled up one after the other with a guitarlele and some weird synths.... Life happens and we are powerless to stop it."

 An exercise in boundless creativity, M1XTAPE depicts the full human condition over its seven tracks. From the life-affirming guitar pop of 'ELEVEN11_GTR_SONG', to the earnest vulnerability of 'BISOUSxxx', via 'NO WRONG NO RIGHT's modulated synth hooks; this diverse collection of tracks are tethered by Laurie & Jolyon's aptitude for creating anthems which are rich in both melody and mindfulness.
Please note that Blood Records is a pre-ordering platform and this record is due for release on April 29th, 2022. All images for illustrative purposes.