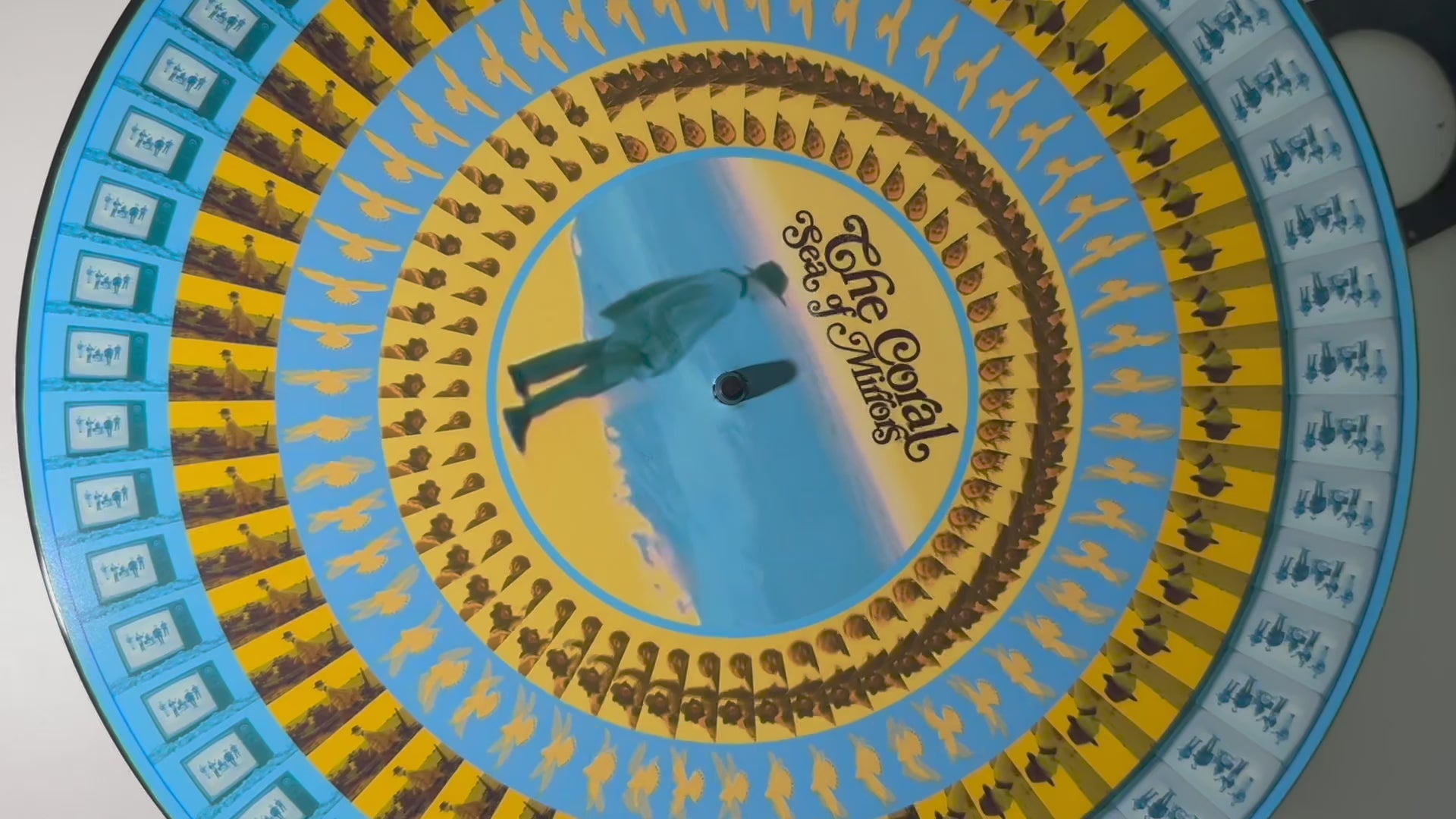 Info
Following the widely-acclaimed 2021 double album, Coral Island, The Coral announce 'surreal Italian spaghetti western soundtrack', Sea Of Mirrors and this exclusive Blood Records zoetrope edition, limited to 1,500 copies and hand-numbered.
Bridging their UK Chart No.2 success and the sun-bleached sets of imagined films, the physical formats-only release of Holy Joe's Coral Island Medicine show makes it two albums in one year Singular psych-folk-pop-rock wanderers, The Coral revel in a resurgent phase of artistic enquiry and release two albums at the same time. Imagining the scorched sand, cardboard cowboys and flooded sets of a never-made Italian spaghetti western, the single 'Wild Bird' snaps the clapperboard on a new story playing out all the way to the release of Sea Of Mirrors, the band's eleventh studio album 'proper'.
After 2021's expansive Coral Island album landed the Number 2 spot on the UK's Official Album Chart and won unanimous critical praise, material for two, further albums occurred to the band. Amidst that songwriting scirroco, it was a script was written by keyboard player, Nick Power, and vintage cinema foyer poster artwork was created by drummer, Ian Skelly that confirmed Sea Of Mirrors' vivid concept and the blueprint for The Coral to move beyond all expectations once again. The film's envisaged opening theme, Wild Bird's evocative sunlit shadows come laced with deft string arrangements courtesy of the album's co-producer, Sean O'Hagan (The High Llamas, Stereolab) who was welcomed into The Coral fold as one of a number of guests and collaborators featured across Sea Of Mirrors' 13-tracks.
Between the two albums, the band additionally count actors Cillian Murphy and John Simm, plus Love guitarist, Johnny Echols, as contributors. Former band member, Bill Ryder-Jones joins the songwriting credits for Sea Of Mirrors. The Sundowners are also amongst guests adding their voices to the album. James Skelly says of Wild Bird: "Like most of The Coral's best known songs you could pick out, it was written in about five minutes.

Once the album concept was clear, this was us imagining the theme tune for an Italian western directed by Fellini with a Richard Yates-written script. It's us asking ourselves: what would have happened if Lee Hazlewood had produced a Gene Pitney song written by Townes Van Zandt?" Sea Of Mirrors and Holy Joe's Coral Island Medicine Show became the last albums to be recorded at Liverpool's legendary Parr Street Studios, a long-term home to The Coral and numerous other bands from inside and outside the city prior to its closure last year. Opening sessions with O'Hagan in London, returning to Parr Street and, eventually, completing in final sessions at Skelly and producer, Chris Taylor's new recording facility, Kempston Street Studios, the album finds itself a part of music history for reasons beyond it's place in The Coral's extensive catalogue.
Please note that Blood Records is a pre-ordering platform and this record is due for release on September 8th 2023. All images for illustrative purposes.